We're currently in the process of transforming our home website. When we're finished, our site will be completely Desktop Computer, Laptop, Tablet and Mobile Friendly. To do so, we're using Responsive Design techniques. That means, when we're finished the images and page content will respond to the size of the screen in which you view our website.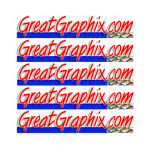 We've been producing Great Websites since 2003, and for the last few months have been changing over all of the existing websites we have built and maintain. Now that all the rest of the GreatGraphix.com websites have become easy to use in Desktop, Laptop, Tablet and Mobile Devices through Responsive Design techniques, we thought it would be a good idea to work on our home site at GreatGraphix.com, too.
Our GreatGraphix.com home site is joining the other sites we have already switched over to the New, 21st Century, Responsive Design technology: USWebDaily.com, McStreamy.com, GreatGold.fm, Garytalk.com, Clik2Go.com, Morbizco.com, WisconsinReport.com, and Advermagic.com. All of the other sites are "ready for primetime", but GreatGraphix.com, itself, will not be completely finished for awhile, while we tend to some loose ends here and there on the other sites.
The GreatGraphix.com project will take a little time to finish, so, please bear with us as we build our new pages. We'll be adding additional pages while our site is undergoing the updates and improvements. In the meantime, we have made the new pages "live" at GreatGraphix.com, so you can use this site right now. However, please be aware that all information on the new version of our site may not be readily available, to see and read just yet.
You're welcome to come back as often as you wish to watch our progress.

A Morbizco Internet Media website.