GREATGRAPHIX.COM – Please use the easy Contact Form on this page to contact us. Fill in all of the information requested. Select GreatGraphix.com as the WebSite you wish to contact, then fill in the Subject, and the message you wish to send to us. If you are writing to us in regard to your website, please include that information, and, any other pertinent details. After you have included everything, be sure to click on SUBMIT to Send.
When you click/tap on Submit/Send, a notice will be seen on the Morbizco Internet Media Contact Form page telling you your message has been received and will be answered soon. When the message is routed to the appropriate department an additional message will be sent to your email address in response to your note if required. Please fill in a REAL email address so this process can be followed through to completion. Thank you.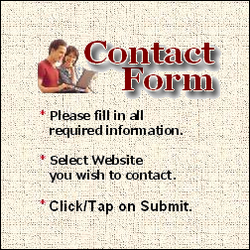 THE FORM will open up in a new browser tab.




PLEASE DESIGNATE GreatGraphix as the site at which you wish to have the message received.
GREATGRAPHIX is Member of the Morbizco Internet Media Group.